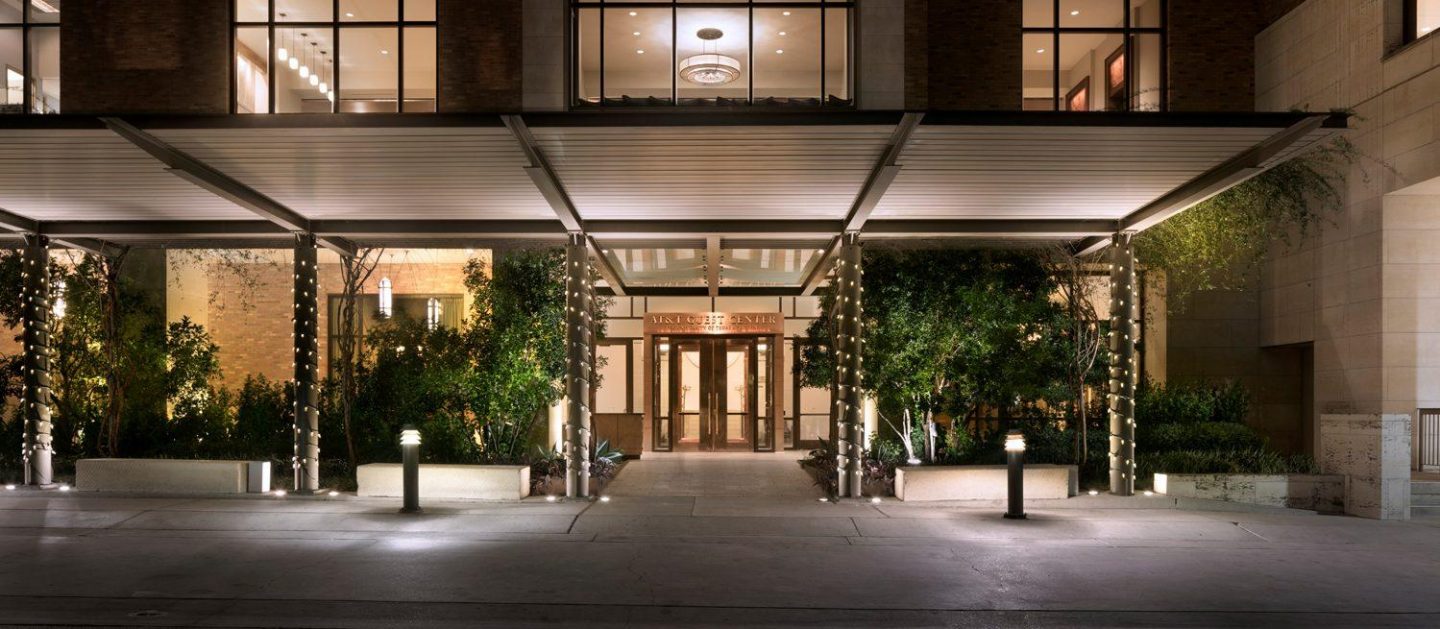 Sustainability
AT&T Hotel and Conference Center was designed, built, and now run with a keen environmental conscience. It is constructed to U.S. Green Building Council's Leadership in Energy and Environmental Design (LEED) Gold certification standards and boasts multiple sustainable and eco-friendly features.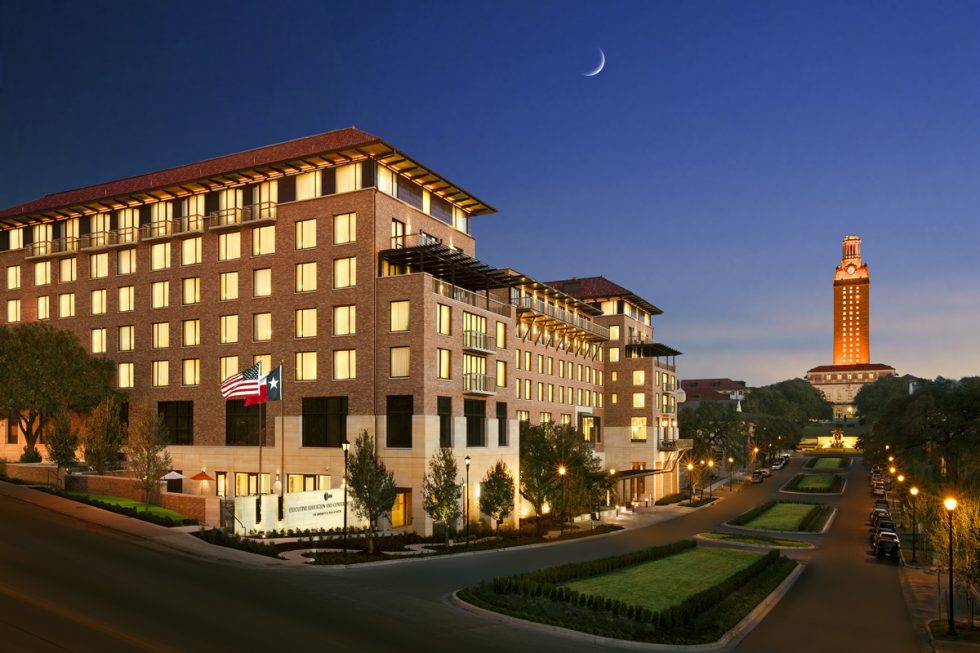 Built Green
Exterior limestone and brick purchased locally to reduce fuel use and pollution
Insulation outside exterior wall structure to reduces energy leakage
Low-emissivity glass windows limit heat radiation
Indoor air quality controlled for low emissions from building materials and furnishings
More than 75 percent of construction waste recycled
Concrete structure is 20 percent fly ash from a nearby coal-burning power plant, a remnant which would otherwise have been sent to a landfill
Staying Green
Courtyard features native plants from the five ecological regions of Texas, using drip irrigation
Grounds showcase two mature live oak trees reclaimed from the construction site of Darrell K. Royal Memorial Stadium
Parking garage uses two-stage lighting based on motion sensor and occupancy, with spaces reserved for hybrid and high-efficiency vehicles
Reduced-energy compact fluorescent lighting throughout the facility, including guest rooms
Extensive use of recycled paper products
Dumpster with cardboard compactor to reduce landfill volume
Extensive use of Green Seal certified biodegradable cleaning products
Waste diversion to compost and recycling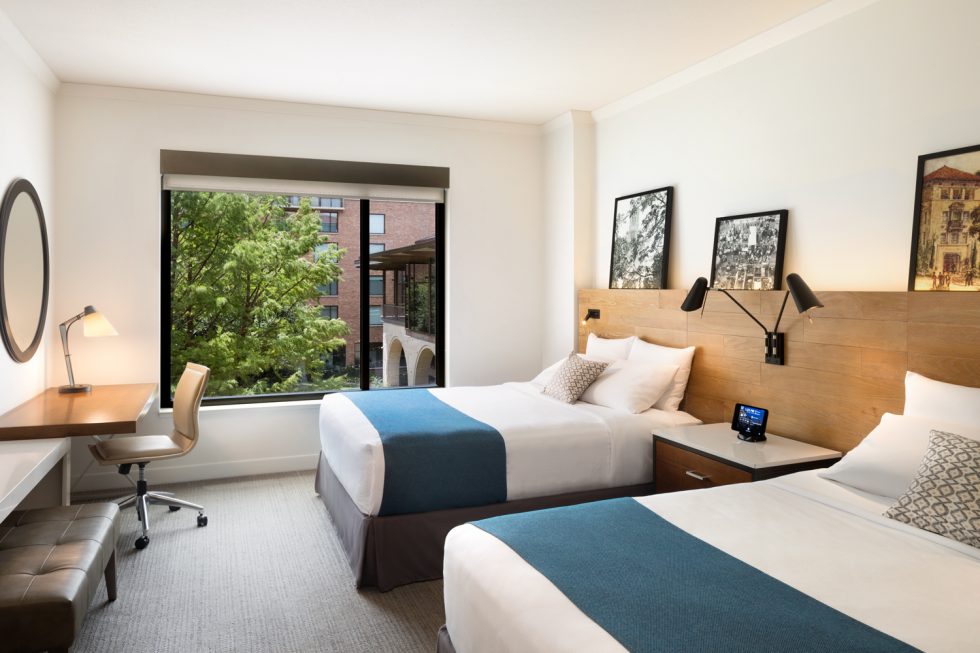 Guest Rooms
Motion detectors recognize a guest's presence and regulates temperature accordingly
Green cleaning, emphasizing biodegradable products and reusable containers
Low-flow plumbing
Reusable glasses and mugs
Towel and sheet reuse program
Eco-friendly shower and bath products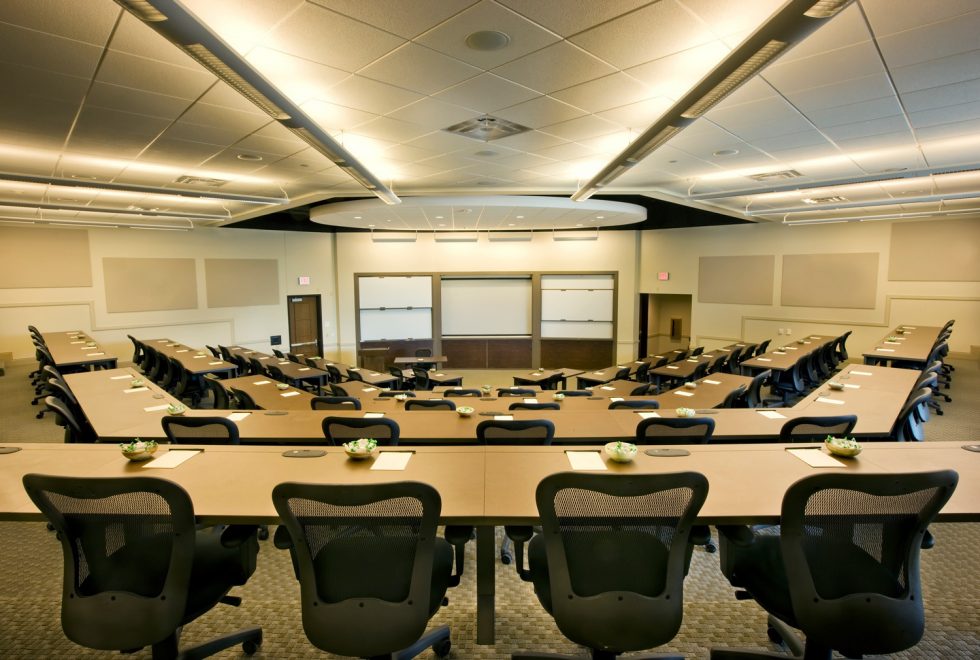 Conference Areas
Energy-saver systems and devices throughout

Wall panels, ceiling tiles and other treatments incorporate recycled materials wherever possible and are designed to reduce noise between meeting rooms
Guests are offered filtered water in glasses in lieu of bottled water
Recycling containers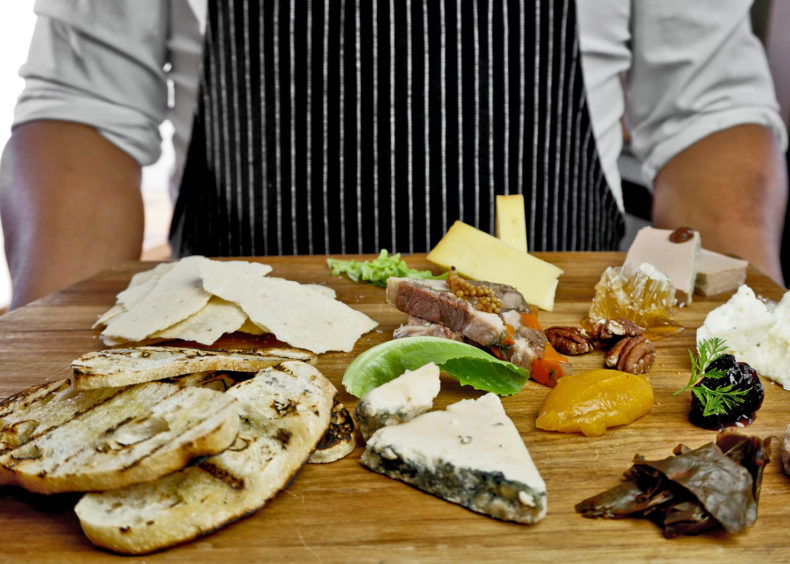 Food & Beverage
Our chefs use organic, local and farmed-fresh foods wherever possible. We are committed to using RBGH-free milk, antibiotic- and hormone-free chicken and cage-free eggs. Our beef is 100 percent grass-fed, and our fish is never frozen.
Utilizing Waste Not 2.0, a waste-tracking program by Compass Group, our team is able to monitor our efforts to decrease food waste. Year-to-date, we have diverted 206,000 lbs and counting to compost. Additionally, more than 8,300 lbs of coffee grounds have gone to UT's landscaping efforts.
Sheet Exchange

We will remake your bed daily and change your sheets every other day.

Towel Exchange

Please hang your towels on the rack, curtain rod, or hook to reuse your towels. Towels on the floor or in the tub will be replaced.
Offers