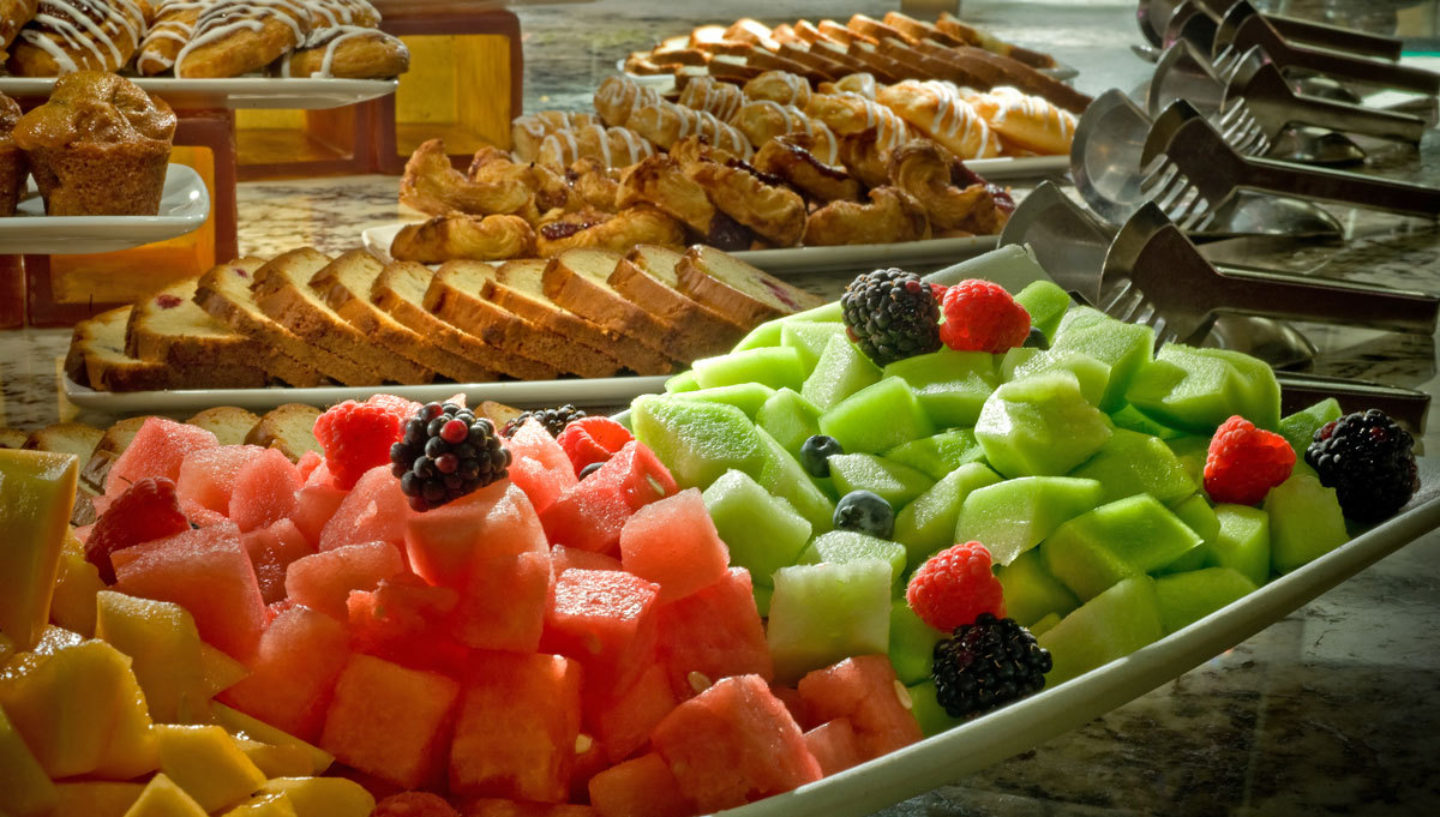 Plated Breakfast
All Plated Breakfasts come with one starter and one entrée. Included are Freshly Baked Pastries with Butter and Fruit Preserves for each table. Beverages include Orange Juice, Freshly Brewed Regular Coffee, Freshly Brewed Decaffeinated Coffee and Tea Selections.
Starters
Vanilla Greek Yogurt and Berry Parfait
House Granola
Diced Fresh Melon and Fruit Bowl
Assorted Berries, Mint
Sliced Fresh Fruit & Berries
Mango Yogurt, Banana Bread
Orange Coconut Chia Parfait
Puffed Wild Rice, Agave
Entrées
Scrambled Eggs
Cheddar Cheese, Roasted Roma Tomato, Hickory Smoked Bacon, Hash Brown Potatoes
Quiche Lorraine
Gruyere Cheese, Spinach, Chopped Bacon, Housemade Tart Shell, Dressed Greens
Brisket Migas
Smoked Brisket, Eggs, Pico de Gallo, Cotija Cheese, Fried Tortillas, Home Fried Potatoes, Salsa Verde

Buffet Breakfast
All Breakfast Buffets come with Assorted Juices, Freshly Brewed Regular/ Decaffeinated Coffee, and Tea Selections.
Rise and Shine!
Scrambled Eggs

Hickory Smoked Bacon
Pork Breakfast Sausage

Seasoned Hash Brown Potatoes ♥FIT
Buttermilk Pancakes
Maple Syrup
Fresh Sliced Fruit and Berries♥FIT
Breakfast Pastries
---
Longhorn Breakfast
Brisket Quiche
Whole Eggs, Grilled Onions, Roasted Tomatoes, Pepper Jack Cheese
Mixed Vegetable Quiche
Whole Eggs, Grilled Onions, Roasted Tomatoes, Pepper Jack Cheese
Chicken Apple Breakfast Sausage
Sweet Potato Poblano Hash
Barbecue Spiced Sauce Charon
Belgian Waffle Maple Syrup
Blackberry and Peach Parfaits ♥FIT
Yogurt, Flax Granola
Caramel Sticky Buns
Toasted Pecans
Cinnamon Apple Fritter
---
Tex-Mex
Brisket Migas
House Smoked Brisket, Eggs, Pico de Gallo, Cotija Cheese, and Fried Tortillas
Black Bean Migas
Black Beans, Eggs, Pico de Gallo, Cotija Cheese, Fried Tortillas
Home Fried Potatoes
Grilled Flour Tortillas
Salsa Roja and Salsa Verde
Strawberry Banana Smoothie
Marbled Tea Bread
Blueberry Streusel Muffin
---
Lighter Fare ♥FIT
Smoked Turkey and Egg White Frittata
Mozzarella, Bell Peppers, Spinach
Grilled Vegetable and Egg White Frittata
Mozzarella, Mixed Vegetables, Spinach
Breakfast Potatoes
Salsa Roja and Salsa Verde
Fruit and Yogurt Parfait
Greek Yogurt, Berries, Granola
Sunflower and Dried Fruit Energy Bars
Carrot and Apple Smoothie
---
Continental
Whole Fruit
Apples, Oranges, Bananas
Fresh Melon and Berries
Assortment of Individual Flavored Greek Yogurt
Assortment of Individual Dry Oatmeal Cups
Selection of Breakfast Cereal Bars

Assortment of Breakfast Pastries
Assorted Juices
Breakfast A La Carte
Selection by the dozen
Breakfast Sandwiches
Croissants with Egg, Cheese, and
Selection of: Bacon, Ham, or Turkey Sausage
Croissants with Roasted Tomatoes, Spinach
Egg, and Cheese
English Muffin with Egg, Cheese, and
Selection of: Bacon, Ham, or Turkey Sausage
Vegan Migas Bowl
Squash, Black Bean, Vegan Eggs, and Fried Corn Tortillas
English Muffin with Scrambled Eggs
Turkey Sausage, Aged Cheddar
Biscuit with Fried Chicken and Honey
Breakfast Tacos
Bacon, Egg, and Cheese
Chorizo, Egg, and Cheese
Potato, Egg, and Cheese
Brisket, Egg, and Cheese
Chorizo and Potato
Black Bean and Avocado
Accompaniments
Breakfast Pastries
Muffins, Tea Breads, Danishes
Assorted Individual Oatmeal Cups
Assorted Individual Cereal Bars
Selection of Individual Flavored Yogurts
Sliced Fruit and Berry Cups
Fresh Whole Fruits
Offers