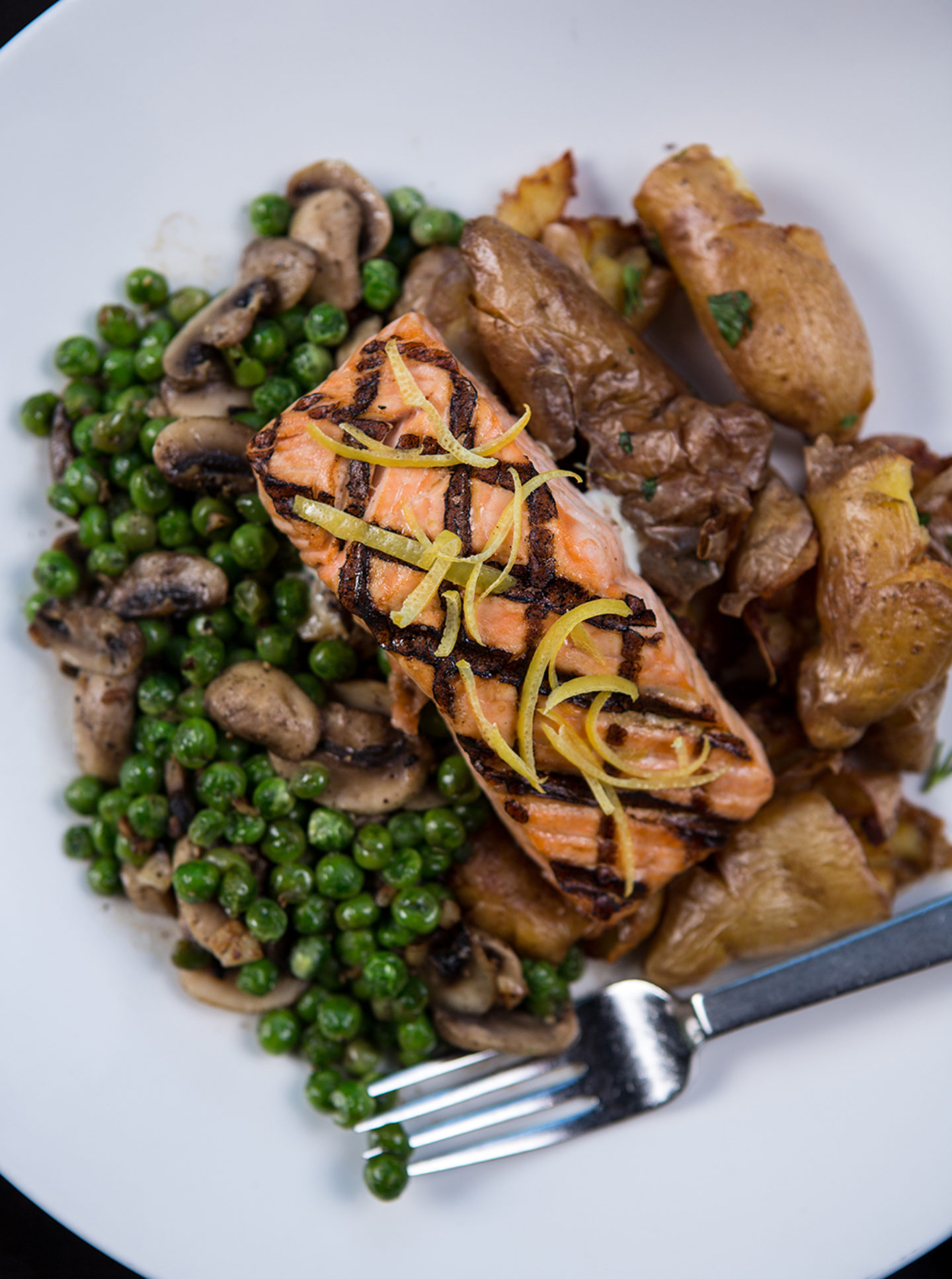 Two-Course Plated Lunch
Two-Course Plated Lunch comes with one choice of entrée and one dessert. Served with Freshly Brewed Regular and Decaffeinated Coffee, Mighty Leaf Tea Selections, Iced Tea, and freshly baked rolls with sweet butter.
Salad Entrées
Poached Jumbo Shrimp
Cotija, Petite Tomatoes, Spiced Pepitas, Red Onion, Cilantro, Horseradish Buttermilk Dressing
Grilled Achiote Chicken Texan Cobb
Chopped Romaine, Bacon Praline, Tomato, Corn, Avocado, Tortilla Strips, Blue Cheese Crumbles, Cilantro-Lime Vinaigrette
"Everything" Crusted Salmon
Baby Kale, Red Onion, Chopped Egg, Capers, Cucumber, Buttered Croutons, Flaxseed Vinaigrette
Chimichurri Grilled Skirt Steak
Arugula, Radicchio, Heirloom Carrot, Roasted Cauliflower, Sunflower Seeds, Citrus Chili Vinaigrette
Desserts
Vanilla Crème Brûlée
Lemon Madeleine
Flourless Chocolate Cake
Raspberry Chutney
Chocolate Layer Mousse Cake
Salted Caramel
Lemon Meringue Tart
Lemon Curd, Shortbread Crust, Burnt Meringue
New York Cheesecake
Berry Compote, Fresh Berries
Butterscotch Bread Pudding
Caramel Sauce
Three-Course Plated Lunch
Three-Course Plated Lunch comes with one choice of soup or salad, one entrée and one dessert. Served with Freshly Brewed Regular and Decaffeinated Coffee, Mighty Leaf Tea Selections, Iced Tea, and freshly baked rolls with sweet butter. Vegetarian/vegan entrées available upon request.
Soups
Corn-Poblano Soup
Cilantro, Corn Relish
Roasted Tomato & Basil Bisque
Garlic Baguette Croutons, Basil Oil
Cauliflower Soup
Curried Golden Raisins, Cauliflower Couscous
Salads
Baby Greens Salad
Cherry Tomatoes, Radish, Cucumbers, Pickled Shallots, Balsamic Vinaigrette
Caesar Salad
Romaine Hearts, Garlic Croutons, Parmesan Cheese, Caesar Dressing
Greek Salad
Cucumber, Feta, Tomato, Artichoke, Olive, Oregano Vinaigrette
Baby Spinach Salad
Peruvian Peppers, Sweet Potato Crisps, Dried Cranberries, Goat Cheese, Honey-Balsamic Vinaigrette
Texas Chopped Salad
Romaine, Sharp Cheddar, Red Pepper, Black Beans, Corn Tortilla Strips, Chipotle Ranch
---
Entrées
Grilled Beef Bistro Tender
Golden Potato Puree, Charred Broccolini, Demi-Glace
Ginger Sesame Crusted Salmon
Garlic Green Beans, Scallion Panisse, Gochujang Glaze
Citrus Marinated Mahi Mahi
Quinoa Pilaf, Marinated Tomatoes, Roasted Asparagus, Blood Orange Beurre Blanc
Grilled Achiote Chicken Breast
Baby Farmhouse Vegetables, Cauliflower-Potato Puree, Charred Scallion-Corn Cream, Pickled Corn
Vadouvan Spiced Chicken
Roasted Baby Carrots, Basmati Rice Pilaf, Coconut Curry, Coriander Chutney
Sous-Vide Pork Loin
Caramelized Brussels Sprouts, Parmesan Mac n' Cheese Cake, Bourbon BBQ Demi
---
Desserts
Tahitian Vanilla Crème Brûlée
Lemon Madeleine
Caramelita Marquise
Chocolate Soil, Blood Orange Gel, White Chocolate Snow
Triple Berry Shortcake
Basil-Orange Macerated Berries, Strawberry Ganache
White Chocolate Bread Pudding
Salted Caramel
Orange Creamsicle Panna Cotta
Fresh Berries, Candied Pecan
Coconut Poundcake
Passionfruit Curd, Mango Chantilly, Coconut Crisp
Chocolate Devil's Food Cake
Dark Chocolate Cream, Chocolate Shortbread Crumble, Raspberry
Cheesecake
Cinnamon Graham Crumbs, Berry Compote, Sweet Cream
Lunch Buffet
Served with Freshly Brewed Regular and Decaffeinated Coffee, Mighty Leaf Tea Selections and Iced Tea.
University Deli Buffet
Chorizo Spiced Lentil Soup

Spinach & Frisee Salad
Toasted Sunflower Seeds, Granny Smith Apples, Goat Cheese, Poppyseed Vinaigrette
Chickpea & Tomato Salad
Avocado, Pickled Onions, Cilantro
Tri-Color Quinoa Salad
Radishes, Spiced Pepitas, Beet Vinaigrette
Build your own sandwich bar
Sandwiches
Black Forest Ham, Smoked Turkey, Roast Beef, Tuna Salad
Accompaniments
Provolone, Cheddar, Swiss Cheeses, Lettuce, Tomato, Onions, Pickles
Assorted Condiments
Assorted Breads
House Potato Chips
Desserts
Chef's Selection of Freshly Baked Cookies & Brownies
Picnic @ Zilker
Roasted Tomato-Coconut Soup

Macaroni Salad
Bell Pepper, Scallion, Celery, Pickles, Cheddar
Baby Field Greens Salad
Sun-Dried Tomato, Artichokes, Radishes, Basil Vinaigrette
Couscous Salad
Dried Fruits, Mint
Choose 3 Sandwiches/Wraps
Chicken Pesto Sandwich
Tomato, Mozzarella, Basil
Turkey BLT
Leaf Lettuce, Tomato, Bacon, Chipotle Aioli
Roast Beef Sandwich
Arugula, Pickled Red Onion, Havarti, Horseradish Crema
Grilled Vegetable Sandwich
Balsamic Reduction, Sun-Dried Tomatoes, Herbed Goat Cheese
Falafel Wrap
Falafel, Roasted Eggplant, Southwestern Hummus, Spinach
Desserts
Cheesecakes, Brownies
Chocolate Chip & Oatmeal Cookies
---
Tex-Mex
Chicken Tortilla Soup
Texas Chopped
Black Beans, Tomatoes, Sieved Egg, Tortilla Strips, Cotija, Avocado Ranch
Roasted Potato Salad
Sauteed Chilies, Scallions, Candied Pepitas, Chipotle Vinaigrette
Build your own fajitas
Adobo Skirt Steak
Tequila-Lime Chicken
Asada Portobello Mushroom
Accompaniments
Warm Flour & Corn Tortillas, Pepper Jack Cheese, Sour Cream, Lettuce, Guacamole, Pico de Gallo, Fire Roasted Salsa & Salsa Verde
Sides
Cilantro-Lime Rice
Charro Beans
Sauteed Zucchini & Squash
Desserts
Caramel Tres Leches Cake
Coconut Lime Cake
Chocolate Texas Sheet Cake
---
Far East Market
Napa Cabbage Salad
Cilantro, Cucumber, Carrot, Ginger-Soy Dressing
Mixed Greens Salad
Mandarin, Sesame, Edamame, Wonton Crisps, Orange-Miso Vinaigrette
Main
Thai Orange - Garlic Chicken
Cilantro, Scallions Panang Beef Curry
Thai Basil, Red Chilies Chinese Stir-Fry Eggplant
Bell Peppers, Garlic, Fresno Chilies
Sides
Jasmine Rice
Sesame Stir-Fried Green Beans
Desserts
Chocolate and Chili Pot De Creme
Matcha-Coconut Rice Pudding
---
Lone Star BBQ
Texas Caviar
Romaine Hearts, Black-eyed Peas, Black Beans, Corn, Celery, Red Onion, Tomato, Cilantro, Red Wine Vinaigrette
Loaded Baked Potato Salad

Citrus Cole Slaw Jicama, Grapefruit, Cilantro
Main
Grilled Chicken
White BBQ Sauce
Texas Spice Smoked Brisket
Mustard BBQ Sauce, Pickles
Slow Cooked Pinto Beans
Molasses, Mustard, Chilies
Sides
Grilled Zucchini & Squash

Blistered Street Corn
Chili, Lime, Cilantro, Cotija
Sliced White Bread
Desserts
Seasonal Cobbler
Funfetti Cookie Bars
Texas Pecan Pie
---
Southern Tuscan
White Bean Soup
Kale, Tomato
Mixed Greens Salad Pepperoncini, Red Onion, Tomato, Black Olive, Cucumber, Toasted Sunflower Seeds, Italian Herb Vinaigrette
Main
Orecchiette
Caramelized Fennel, Corn, Parmesan, Ragu
Slow Cooked Chicken Cacciatore
Olive, Thyme, Tomato, Mushroom
Sides
Stone Ground Polenta
White Cheddar & Oregano
Crispy Cauliflower
Herbs, Olive Oil
Rolls & Butter
Desserts
Italian Cream Cake
Coffee Tiramisu
---
Louisiana Roots
Oysters Rockefeller Soup
Spinach, Pernod
Chopped Bibb & Radicchio Salad
Cucumber, Tomato, Artichoke, Sunflower Seeds, Zatarain's Mustard Vinaigrette
Shrimp Remoulade Salad
Fried Green Tomatoes, Parsley
Main
Blackened Redfish
Crawfish Etouffee
Southern Fried Chicken

Smothered Blackeye Peas

Sides
Jalapeno Jack Cheese Grits
Apple Braised Collard Greens
Buttermilk Biscuits & Cornbread
Desserts
Classic Banana Bread Pudding
Pineapple Upside-Down Cake
Chocolate S'Mores
Service Charge of $5 per person applies for fewer than 25 Guests.
♥ FIT – moderate in calories, fat, cholesterol & sodium
Many of our offerings are prepared without the use of gluten. Please ask your Sales Manager for more information about items that are gluten-free and vegan.
All food and beverage prices are subject to service charge and sales tax.