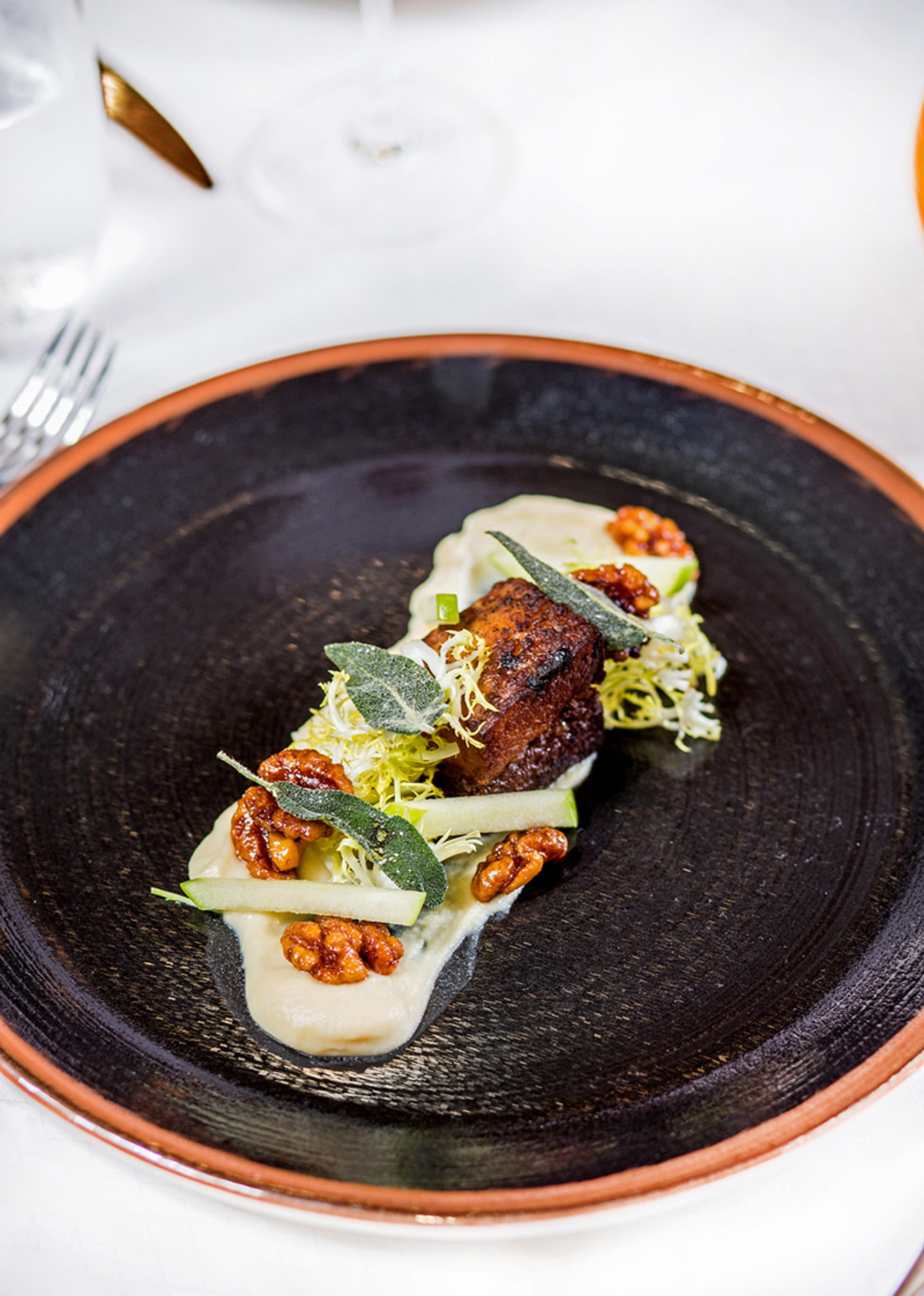 Three-Course Plated Dinner
Please select one Soup, Salad or Appetizer.
Soups
Roasted Red Pepper Bisque
Boursin Cheese, Olive Oil
Sweet Potato-Apple Soup
Shredded Apple, Curry Spiced Pepitas
Golden Potato & Celeriac Bisque
Shaved Celery Hearts, Paprika Oil
---
Appetizers
Leek & Local White Cheddar Tart
Smoked Duck, Herb-Arugula Salad, Pine Cone Syrup
Redfish Ceviche
Avocado Mousse, Lime, Heirloom Tomato
Roasted Cauliflower
Romanesco, Tri-Color Quinoa, Cumin Yogurt
Salads
Baby Romaine Caesar
Petite Heirloom Tomatoes, Red Onion, Parmesan Dressing, Herb Croutons
Spinach & Frisee Salad
Toasted Pumpkin Seeds, Goat Cheese, Strawberries, Raspberry Vinaigrette
Hearts of Romaine Salad
Baby Heirloom Tomatoes, Texas Cheddar, Crispy Bacon, Tortilla Crisps, Jalapeño Buttermilk
Wild Arugula Salad
Watermelon Radish, Cucumber, Quinoa, Cotija, Crispy Shallots, Golden Beet Vinaigrette
Greek Salad
Artichokes, Sliced Olives, Feta, Tomatoes, Peruvian Peppers, Shaved Pepperoncini, Oregano Vinaigrette
---
Entrées
All entrées served with Chef selected seasonal vegetables.
Scottish Salmon
Romesco Couscous, Citrus Vinaigrette
Porcini Crusted Beef Tenderloin
Chive-Portobello Dauphinoise, Red Wine Demi
Braised Short Rib
Horseradish Polenta, Grilled Corn, Natural Jus
Herb Roasted Breast of Chicken
Chickpea Fritter, Coriander-Fennel Vinaigrette
Roasted Pork Loin
White Cheddar-Tasso Grits, BBQ Spiced Tomato Vinaigrette
Ancho Chile Chicken
Mac n' Queso Cake, Tequila-Lime Beurre Blanc
Curry Spiced Chicken
Basmati Rice Pilaf, Coriander-Mint Chutney
Chili Spiced Chicken & Mojo Glazed Mahi Mahi
Fried Yukon Gold Potatoes, Lime Crema
Grilled Beef Tenderloin & Blackened Redfish
Potato Puree, Béarnaise
Braised Beef Short Rib & Petite Chicken Breast
Sweet Potato Hash, Guajillo Cream
Beef Tenderloin & Chimichurri Marinated Shrimp
Sweet Corn Grits, Peppercorn Demi
Filet Mignon & Roasted Chicken Breast
Celeriac Puree, Carrot Beurre Blanc
---
White Chocolate Bread Pudding
Salted Caramel
Orange Creamsicle Panna Cotta
Fresh Berries, Candied Pecan
Sticky Toffee Pudding
Bourbon Caramel, Cinnamon Chantilly, Sugared Dates
Flourless Chocolate Cake
Kahlua Ganache, Bailey's Cream
Toasted Hazelnut Cake
Milk Chocolate Crémeux, Brown Butter Powder, Hazelnut Crunch
Caramelita Marquise
Chocolate Soil, Blood Orange Gel, White Chocolate Snow
Lemon Meringue Tart
Roasted Pinenut Shortbread, Raspberry Meringue
Texas Chocolate Cake
Vanilla Anglaise, Brown Butter Snow, Chocolate Crisp Cereal
Cheesecake
Cinnamon Graham Crumbs, Berry Compote, Sweet Cream
Bittersweet Chocolate Cheesecake
Oreo Crumbs, Tangerine Cream
Almond Frangipane Torte
Chamomile-Citrus Custard, Caramelized Apples
Espresso-Orange Panna Cotta Parfait
Candied Orange, Chocolate Coffee Bean
Dinner Buffet
Gulf Coast Getaway
Seafood Gumbo
White Rice
Baby Spinach & Endive Salad
Blackened Spice Sunflower Seeds, Cucumber, Tomato, Red Onion, Candied Bell Pepper, Cane Sugar Vinaigrette
Cajun Caprese
Heirloom Tomatoes, Charred Scallion, Mozzarella, Cane Sugar Vinaigrette
Shrimp-Red Potato Salad
Capers, Parsley, LA Hot Sauce Vinaigrette
Main
Cornmeal Fried Redfish
Parsley, Lemon-White Wine Pan Sauce
New Orleans Style BBQ Shrimp
"Gristmill" Grits, Bacon, Garlic
Buttermilk Fried Chicken

Sides
Spinach Madeleine

Sautéed Seasonal Market Vegetables

Rice Dressing

Desserts
Bread Pudding
Bourbon Pecan Tart
Strawberry Shortcake
Austin BBQ Buffet
Freekeh Pilaf Salad
Spiced Pepitas, Sunflower Seeds, Dried Fruits, Sweet Potato, Flaxseed-Tumeric Vinaigrette
Hippie Salad
Super Greens, Quinoa, Beets, Radish, Grilled Seasonal Vegetables, Hemp Seeds, Lemon Vinaigrette
Main
Slow House-Smoked Brisket
Grilled Texas Sausage
"Austin Amber" Ale Glazed Chicken
Grilled Eggplant "Al Pastor"
Sides
Roasted Broccolini
Whole Grain Mustard BBQ Baked Beans
Homestyle Mac 'n' Cheese
Jalapeno Spiced Cornbread
Desserts
Banana Pudding Trifle
Key Lime Pie
Strawberry Shortcake
---
Texas Hill Country Buffet
Smoked Brisket Chili
Red Onion, Cornbread Crouton
Farro Salad
Leafy Greens, Pumpkin Seeds, Granny Smith Apples, Fried Shallots, "Austin Honey" – Cider Vinaigrette
Artisan Greens Salad
Texas "Redneck" Cheddar, Baby Heirloom Tomatoes, Roasted Beets, Radish, Sorghum Vinaigrette
Main
Grilled Skirt Steak
Chimichurri, Blistered Tomatoes
Garlic-Herb Roasted Chicken Breast
Pan Seared Salmon
Grapefruit, Parsley, Crispy Chickpeas
Sides
"Gristmill" Stone Ground Cheddar Grits
"East Cider" Braised Greens
Smoked Onion & Pinto Charro Beans
Desserts
Texas Pecan Pie
Chocolate Caramel Sheet Cake Bites
---
El Paso
Pork Posole Soup
Kale Ceviche
Avocado, Lime, Sea Salt
Black Bean-Corn Salad
Red Onion, Tomato, Cilantro, Crisp Corn Tortilla
Main
Braised Short Ribs
Citrus-Guajillo Glazed Chicken
Orange-Coriander Jus
Wheat Esquites
Epazote, Wheatberries, Creamed Corn
Sides
Cilantro-Lime Rice
Grilled Calabacitas
Corn Tortillas, Rolls & Butter
Desserts
Cinnamon Churros
Mini Sopapilla Cheesecakes
Served with Freshly Brewed Regular and Decaffeinated Coffee, Mighty Leaf Tea Selections, Iced Tea, and freshly baked rolls with sweet butter.
Additional service charge per person applies for fewer than 25 Guests.
♥ FIT – moderate in calories, fat, cholesterol & sodium
Many of our offerings are prepared without the use of gluten. Please ask your Sales Manager for more information about items that are gluten-free and vegan.
All food and beverage prices are subject to service charge and sales tax.