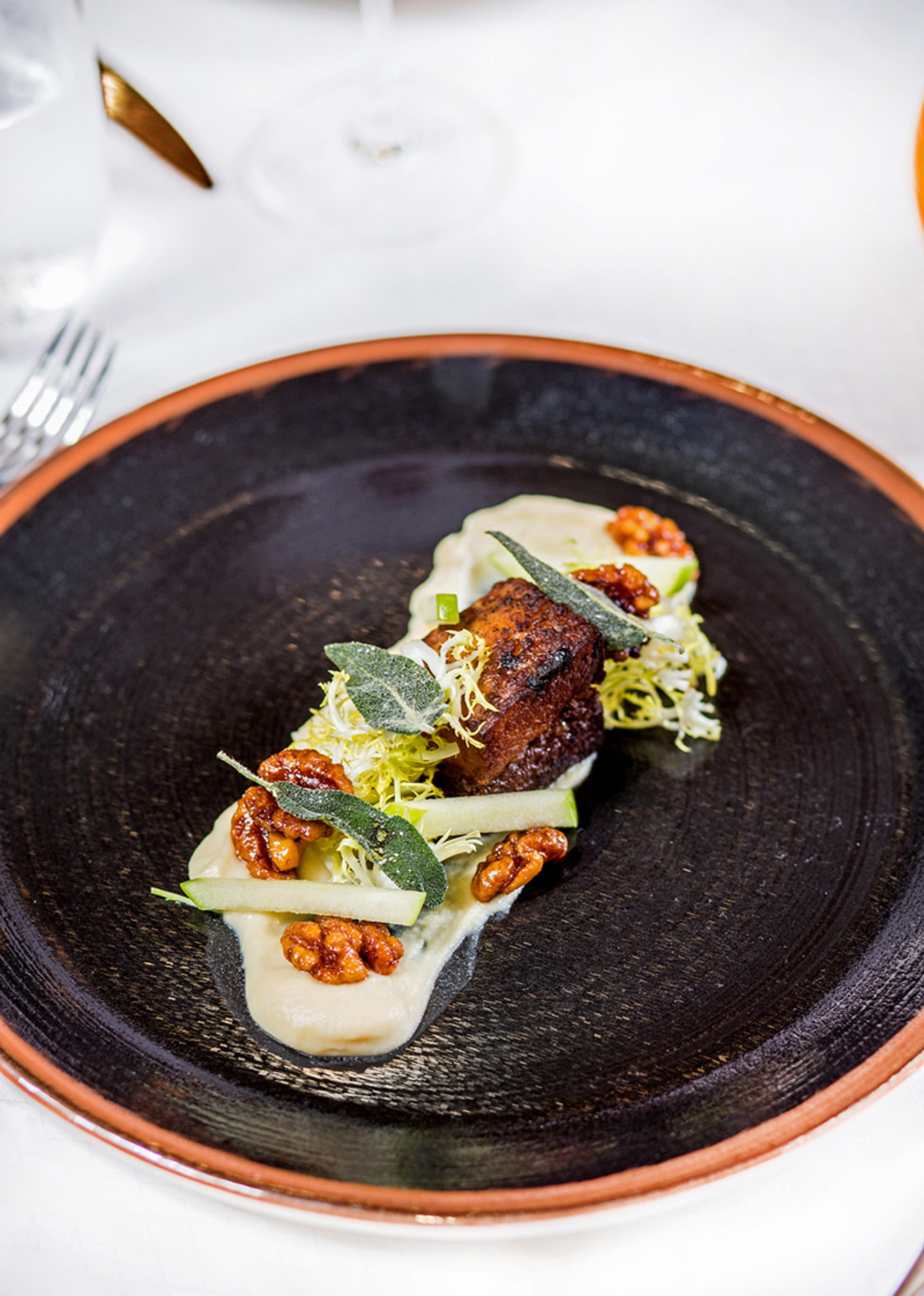 Three-Course Plated Dinner
Please select one soup or salad, one entree, and one dessert. Served with Freshly Brewed Regular and Decaffeinated Coffee, Dammann Frères Tea Selections, Iced Tea, and Freshly Baked Rolls with Sweet Butter.
Soups
Roasted Corn and Poblano Bisque
Red Chile Coulis, Pickled Chiles, Cilantro
Tomato Basil Soup
Chicken Tortilla Soup
Spanish Gazpacho
Salads
Caesar Salad
Romaine Hearts, Sun-Dried Tomatoes, Red Onion, Parmesan Cheese, Garlic Croutons, Caesar Dressing
Mixed Greens Salad
Mesclun Greens Mix, Heirloom Baby Tomatoes, Cucumber, Onion, Shredded Carrot, Red Radish, Balsamic Vinaigrettee
Wedge Salad
Baby Heirloom Tomatoes, Texas Cheddar, Crispy Bacon, Tortilla Crisps, Jalapeño Buttermilk
Wild Arugula Salad
Bacon Crumble, Bleu Cheese, Pickled Shallot, Grilled and Shaved Scallion, Red Wine Vinaigrette
Texas Chopped Salad
Romaine Lettuce, Sharp Cheddar, Roasted Red Pepper, Black Bean Relish, Corn Tortilla Strips, Chipotle Ranch
Cranberry Goat Cheese Salad
House Greens Blend, Peruvian Peppers, Shaved Carrot, Goat Cheese, Cranberry-Honey Vinaigrette
---
Entrées
Garlic and Thyme Basted Chicken Breast
Whipped Potatoes, Green Beans, Chive Salad, Chicken Demi-Glace
Smoked Beef Short Rib
Sweet Potato Puree, Roasted Red Beets, Chimichurri Vinaigrette
Seared Texas Beef Tenderloin Filet
Gruyere Dauphinoise Potato Gratin, Brussels Sprouts, Petite Greens, Beef Demi-Glace
Blackened Gulf Red Fish
Boursin Grits, Broccolini, Braised Fennel, Lemon Tomato Chutney
Mojo Glazed Mahi Mahi and Achiote Chicken
Fried Yukon Potatoes, Grilled Corn Relish, Blistered Red Onions, Dressed Cabbage, Citrus Emulsion
Maple Salmon and Beef Short Rib
Black Pepper Polenta Pave, Sautéed Spinach, Tomato Relish, Rosemary Jus
Seared Strip Steak and Gulf Crab Cake
Potato Puree, Roasted Mushrooms, Snow Pea and Frisee Salad, Grain Mustard Sauce
Grilled Chicken and Petite Filet Mignon
Poblano Potato Hash, Poached Asparagus, Charred Tomato, Balsamic Beef Demi Glace
---
Citrus Tart
Meringue Fluff, Raspberry Coulis, Fresh Berries
Baked Chocolate Tart
Espresso Cream, Coffee Crumble, Salted Caramel Sauce
Flourless Chocolate Cake
Salted Caramel Buttercream, Milk Chocolate
Key Lime Pie
Whipped White Chocolate, Mango Confetti
Strawberry Cheesecake
Citrus Coulis, Sugar Cookie Crumble
Bananas Caramel Mousse Cake
Mint, blackberry
Devil's Food Cake
White Chocolate Mousse, Raspberries
Dulce de Leche Brownie Cake
Toasted Coconut, Salted Caramel Sauce
Dinner Buffet
Served with Freshly Brewed Regular and Decaffeinated Coffee, Mighty Leaf Tea Selections, Iced Tea, and freshly baked rolls with sweet butter.
Bistro on Main
Tomato Bisque

Baby Greens Salad d
Frisee & Baby Greens, Tomato, Bleu Cheese, Seed Praline, Champagne Vinaigrette
Waldorf Salad
Bibb Lettuce, Celery, Crisp Apple, Grapes, Apricot, Chive Yogurt
Grilled Beef Bistro Tender
Roasted Garlic Demi-Glace
Seared Scottish Salmon
Shaved Fennel, Grapefruit, Champagne Butter Sauce
Portobello Quinoa
Mushroom Medley, Wilted Leeks, Cured Tomatoes, Lemon Vinaigrette
Roasted Asparagus

Grilled Carrots
Pink Peppercorn, Sherry Gastrique
Butter Whipped Potatoes

Limoncello Crème Caramel

Apple Tart

---
Barbecue Buffet
Poblano Soup
Blistered Chiles, Creamless Creamed Corn, Aleppo Pepper
Red Potato Salad
Grain Mustard Dressing, Green Onion, Herbs
Baby Kale Salad
Broccoli, Shaved Brussels Sprouts, Parmesan, Sunflower Seeds, Cranberry, Maple Sherry Vinaigrette
House Smoked Brisket
Shaved Yellow Onion, Horseradish Pickles, Citrus Barbecue Sauce
Live Oak Turkey Breast
Salt and Pepper Smoked Turkey, Mustard Glaze
Garbanzo and Lentil Fritter
Saffron Rice, Roasted Jalapeno Ranch Sauce
Grilled Vegetables

BBQ Baked Beans

Housemade Corn Muffins and Sourdough Bread

Southern Pecan Pie
Spiked Whipped Cream, Chocolate Shavings
Chocolate Fudge S'mores Brownie

---
Curry In a Hurry
Mulligatawny Soup
Masala Broth, Red Lentils
Napa Cabbage Salad
Bell Pepper, Cilantro, Snow Pea, Crispy Wonton, Ginger Soy Vinaigrette
Glass Noodle Salad
Sweet Chile, Bean Sprout, Green Onion, Cucumber, Toasted Sesame Seed
Chicken Tikka Masala
Curried Tomato Cream, Coriander Chile Yogurt
Lamb Saag
Braised Lamb, Spinach, Butternut Squash, Cucumber Raita
Yukon Gobi
Roasted Potatoes and Cauliflower, Coconut, Green Lentils, Caramelized Mushrooms
Basmati Rice

Garlic Naan

Coconut Flan

Caramelized Pineapple Cake Pops

---
Fajita Fiesta
Chicken Tortilla Soup
Crisp Romaine & Black Bean Salad
Chopped Romaine, Tomato, Cilantro, Tortilla Strips, Coriander Cumin Vinaigrette
Chipotle Roasted Sweet Potato Salad
Grilled Scallions, Candied Pumpkin Seeds, Golden Raisin, Shaved Radish, Citrus Dressing
Carne Asada
Chimichurri Marinated Flank Steak, Sautéed Peppers and Onions
Pollo al Carbon
Achiote Marinated Chicken Thigh, Sautéed Peppers and Onions
Eggplant Al Pastor
Achiote Eggplant, Roasted Mushrooms, Sautéed Peppers and Onions, Grilled Pineapple Relish
House Salsa Roja & Salsa Verde
Roasted Calabaza Squash
Cilantro Lime Rice
Flour Tortillas (Corn tortillas on request)
---
Little Austin Italy
White Bean and Kale Soup Rosemary, Sage, Fennel Seed
Texas Caprese Salad Heirloom Tomatoes, Peaches, Mozzarella, Basil, Texas Olive Oil, Reduced Balsamic
Arcadian Greens Salad Olive Medley, Red Onion, Garlic Crouton, Parmesan Cheese, Oregano Vinaigrette
Grilled Chicken Piccata Lemon Caper Sauce, Gremolata
Penne Pasta Bolognese Smoked Brisket Ragu, Mire Poix Vegetables
Pomodoro Primavera Garden Vegetables, Basil Marinara, Arugula
Roasted Cauliflower Roasted Garlic, Parsley, Aleppo Pepper
Stone Ground Polenta Parmigiano Reggiano
Tiramisu Mascarpone Cream, Coffee Cremeux
Raspberry Marsala Trifle Citrus Cake Bites, Vanilla Bean
---
Southern Special
Shrimp and Corn Chowder
Mixed Greens Salad Strawberry, Shaved Carrot and Celery, Goat Cheese, Poppyseed Vinaigrette
Texas Cole Slaw Shredded Cabbage, Parsley, Creamy Vinegar Dressing
Smoked Pulled Pork
Country Fried Chicken Black Pepper Honey Gastrique
Barbecued and Grilled Tofu Blistered Carrot Succotash
Crispy Brussels Sprouts
Home-style Mac 'n Cheese
Hummingbird Cake Cream Cheese Frosting, Milk Chocolate Crunchy Pearls
Classic Buttermilk Pie Lemon Fluff, Berry Medley
---
Many of our offerings are prepared without the use of gluten. Please ask your Sales Manager for more information about items that are gluten-free and vegan.

Offers